September Chengdu Upcoming Events 九月成都活动精选
9月1日/Sep. 1: Le Wagon Demo Day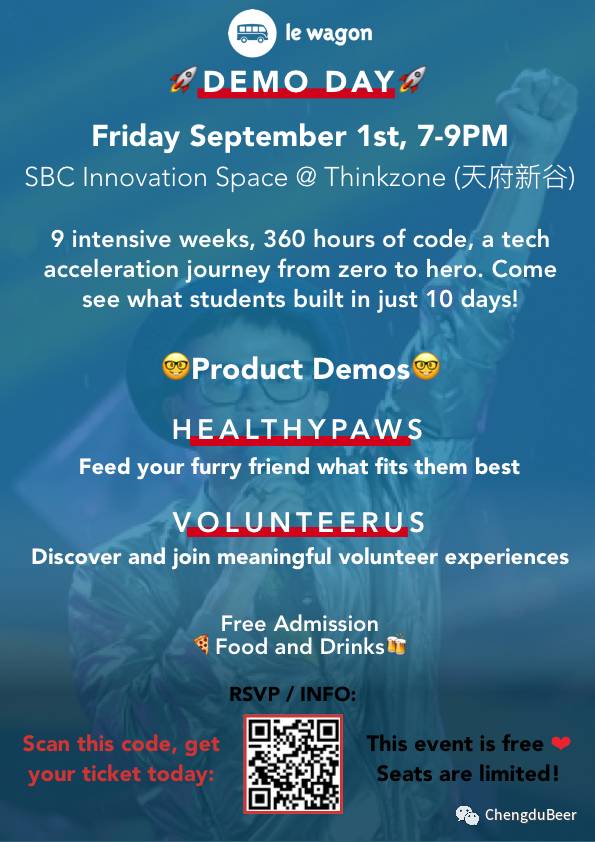 11 talented students split into two teams will be showcasing what they made after 9 intensive weeks of coding.
7:00pm – Welcome & Introduction of Teams
7:30pm – Team 1 Demo + Q&A
8:00pm – Team 2 Demo + Q&A
8:30pm – Party time with drinks and pizza on Le Wagon!
9:30pm – After-party!
Venue
Startup Boot Camp Innovation Space @ ThinkZone
9月2-3日/Sep. 2-3: MDSK Music Festival
Modern Sky –  the group behind Strawberry Festival, present Chengdu's 1st MDSK Music Festival on 2nd & 3rd September 2017. With Chinese superstar Edison Chen and the super popular local Higher Brothers performing on Saturday, make sure to buy tickets on time.
Address/ 地址:
国际非物质文化遗产博览园世纪舞广场 - 成都市光华大道二段 601号
International Intangible Cultural Heritage Park, No. 601, Guang Hua Street
地铁4号线 非遗博览园站
Metro Line 4, Intangible Cultural Heritage Park
9月8日/Sep. 8: Life Awaits 2017 China Tour
*Venue/场地: Little Bar Fangqin
*Address/ 地址: No.87-5, Fangqin Road 小酒馆 (芳沁店) 芳沁街87号附5号
9月9日/Sep. 9: Water Fun Fest
CDIS wants to celebrate 20 years with YOU.
On September 9th, CDIS will be having their 20th Anniversary Water Fun Fest with water games, bubbles, food, music, and more! Come in your bathing suit and be ready to party. Everyone is welcome, whether they're part of CDIS or not, so tell your friends! And the best part is entrance is totally FREE.
Just sign up as soon as you can below.
It's going to be a great family day and we can't wait to see you all there!
Chengdu's biggest ever water fight!
*Nerf Games
*Food and Drinks
*Family Fun
*Music
When:
Saturday 9th September
13:00 – 17:00
Where:
Chengdu International School (CDIS)
68 Tong Gui Road,Jinjiang District
Chengdu, China 610066
四川省成都市锦江区通桂路68号 邮政编码: 610066
RSVP
This is a FREE event for all.
But please register above and have your ticket (or a version on your phone) on the day!
See you there!
9月10日/Sep. 10: Chengdu Mystery Games
9月12日/Sep. 12: Rachael Yamagata China Tour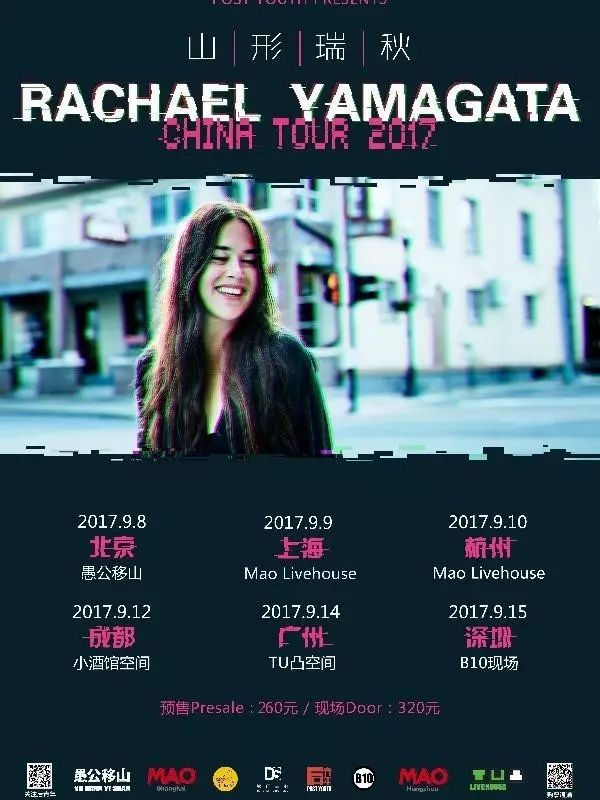 *Venue/场地: Little Bar Space 小酒馆空间
*Address/ 地址: 8 Shuangqing Rd., East Sect. 3rd, Ring 2nd Rd. 二环路东三段双庆路8号
9月14日/Sep. 14: Hachioji P
*Venue/场地: 正火艺术中心
*Address/ 地址: 666, Donghong Road 东洪路666号梵木创艺区
9月21日/Sep. 21: Film Festival Chengdu Shorts
*Venue/场地: NU Space
*Address/ 地址: 青羊区奎星楼街55号 55 Kuixinglou St, Qingyang district
9月22日/Sep. 22: Young Professionals Mixer
Meet the next generation of leaders and innovators at Chengdu's second Young Professionals Mixer. Grow your network, find like minded people and enjoy an evening of drinks on the Farimont Garden Terrance
Friday 22nd September
20:00 – 22:00
Dresscode: Business Casual
Tickets:Presale: 80RMB  After Wednesday 20th September: 100RMBTickets include 2 selected drinks.
9月23日/Sep. 23: Sichaun International Beatbox Battle
*Venue/ 场地: Jah Bar 家吧
*Address/ 地址: 老南门大桥黉门街36号附118号 36-116 Hongmen Street
9月24日/Sep. 24: The Present Is A Present
*Venue/场地: 丽思卡尔顿酒店 The Ritz-Carlton Hotel
*Address/ 地址: 269 Shuncheng Avenue, Qingyang Distric 顺城大街269号